FEATURED PROPERTY FOR SALE
PRICE REDUCED!! KAHULUI RETAIL-WAREHOUSE-OFFICE FOR SALE 6.28% CAP RATE
The property wraps around the corner of Alamaha Street and Wakea Avenue giving it frontage on two streets. The mixed-use building gross leasable area of 13,440 sq.ft. was constructed in 1992. The property was remodeled in 2010 with air-conditioned showroom and improved to current Maui County code with a certificate of occupancy for retail, office and storage.
RECENT COMPLETED TRANSACTION
2145 Wells Street, Units 405 & 406, Wailuku, Maui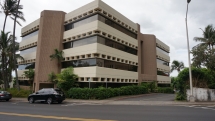 Commercial Properties of Maui represented both the Buyer and Seller in the sale of a 2,247 square foot office condo in the Wells Street Professional Center.
LATEST NEWS
12 FEB 16
Gov. David Ige signs emergency proclamation on mosquito-borne illnesses
Read more...
12 FEB 16
HELCO geothermal plan's strict requirements nixed deal, Nevada firm says
Read more...