FEATURED PROPERTY FOR SALE
WAREHOUSE INVESTMENT FOR SALE
Two well constructed warehouse condos; Unit 1 - 2,127 sq.ft. and Unit 2 - 1,773 sq.ft. For Sale
Both units are tenant occupied.

Property is part of 3-unit CPR.
RECENT COMPLETED TRANSACTION
Professional Row, Lot 60 (52 Pa'a Street), Kahului, Maui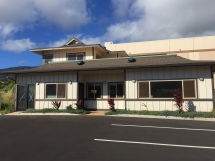 The last Professional Row building in Maui Lani Village Center has sold to Control Freaks Hawaii handling design, engineering, programing, installation, maintenance for audio, video, lighting, shades, networking, security, climate control and energy and power management for residential and commercial users. Commercial Properties of Maui represented the Seller.
LATEST NEWS
22 SEP 17
Whole Foods' first '365' market is on way: Here's where
Read more...
22 SEP 17
Tourism executives tackle future of industry in 14th annual conference
Read more...